Om Light Living is a story of love.
Love for life that we create at every moment of the day. Love for human beings willing to follow their path leading to truth and awakening. Love for beautiful products created from the heart to fulfill our dreams. Love for the risks we sometimes take, not knowing where they will lead us, only to realize that they were exactly what we needed to reach our next level of growth.
My name is Caroline Houle, and I am happy to introduce you to some unique ecological and spiritual products that are aligned with my life path.
I like to say that I am like a lighthouse shining light on all possibilities so that my clients can find their path. There are many ways for me to provide clarity and so I invite you to visit www.carolinehoule.com to learn how I do so through coaching, training and with energy intervention.
Read on to find out how OmWater bottles came into my life. How in a heartbeat, before I had time to overthink it, I had them sail across the Atlantic from Spain so they could become available here in our vast and beautiful country.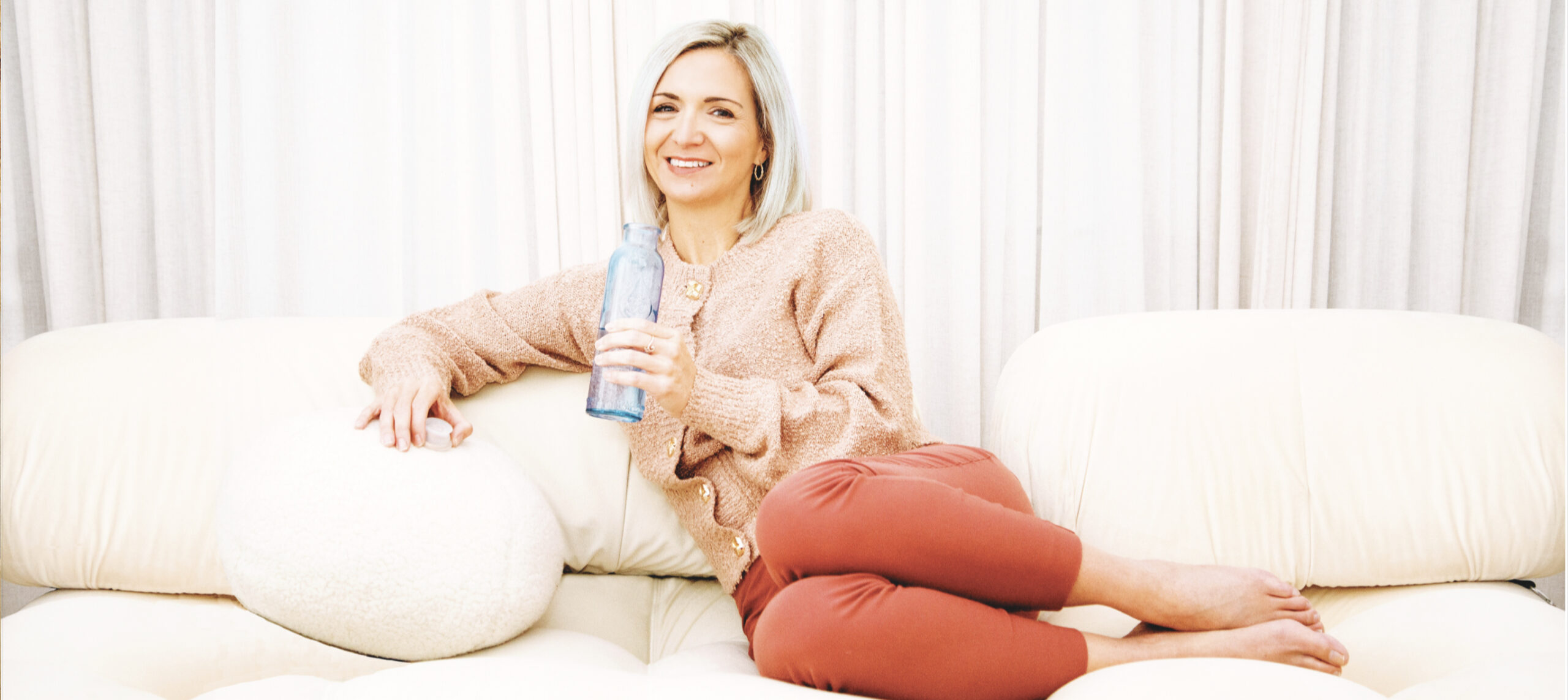 It's March 2019. I am seated at a vegan restaurant in Lisbon, Portugal. Whenever I travel, I love discovering new flavours to broaden my culinary horizons even more. This restaurant has a good rating, the aroma coming from the kitchen is wonderful, I'm already salivating.
The waitress brings a bottle of water to my table as I take in my surroundings. The decor, the people, the smiling faces, life itself. She puts the bottle down and walks away. Immediately, I feel something happening inside me. As soon as I set my gaze on the blue reflections of the bottle, the sensations within me grow stronger.
My heart chakra wants to explode, it pulses in my solar plexus. I take the bottle in my hands. I feel it, I turn it over in all directions. I am captivated…what am I saying? I am overwhelmed. The Om symbol, the Flower of Life, "Thank you" written in 6 languages, its great beauty and harmony.
My brain is off, but my heart is on. I don't understand what is going on, but something is happening.
The meal takes place, and my attention is on the bottle. I want it. I want it for myself, and I want it for dozens of people I know whose faces are running through my mind. They will be charmed too, of that I am certain.
The next day I get in touch with the owners of OmWater Design S.L. in Spain, Cesar, and Miguel. Two wonderful and creative men with great respect for nature and a sense
for the sacred. They are delighted with my interest in promoting their product in America and I quickly strike a deal with them.
I import my first pallet of a little over 600 bottles in June 2019 and two years later, it's now more than 5,000 units that are continually transforming the vibratory quality of the water that is drunk from them.
The end is only the beginning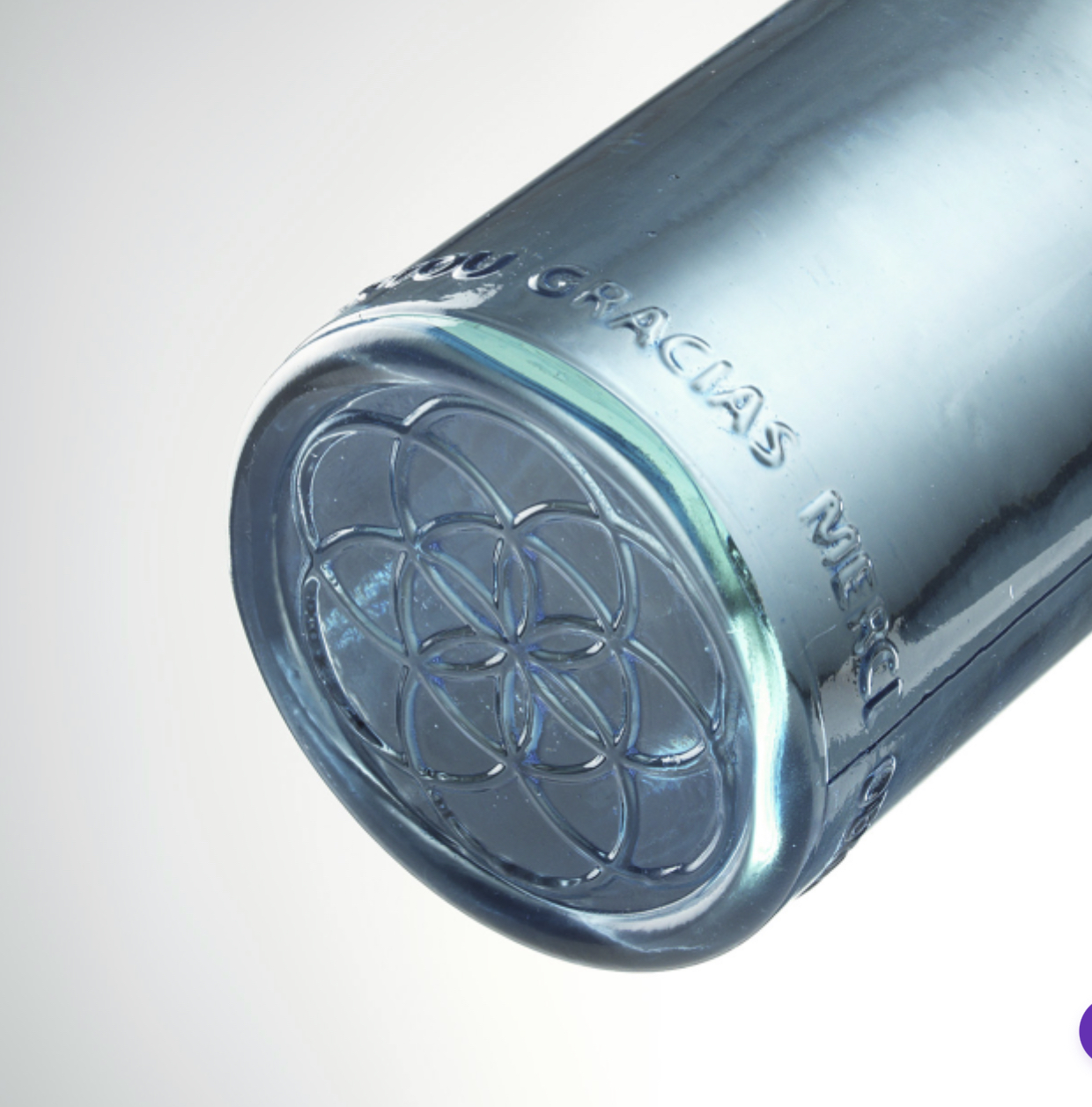 I was confident that I had done the right thing in choosing this unexpected, professional avenue about 5 months after importing my first pallet.
I am standing behind my booth in a trade show where I am an exhibitor when a young woman approaches me. It seems I have seen her before, but where? That's when she said, "I came to say thank you. I bought your bottle two months ago and since drinking my water from that bottle, I no longer feel anxiety in the morning, thinking about living my life. "
Moved to tears, I come around and take her in my arms. At this very moment, I feel all the gratitude of having said yes to this calling from my heart, to embark on the adventure of distributing OmWater bottles in Canada.
If I had ever doubted my decision, this young woman had reassured me.
Om Light Living is an invitation to follow the guidance of your own light. If the products you find here can act as a reminder of all that you can create, well then, I am delighted to be able to offer them to you.
-Caroline