We are Love, We are One, We are Water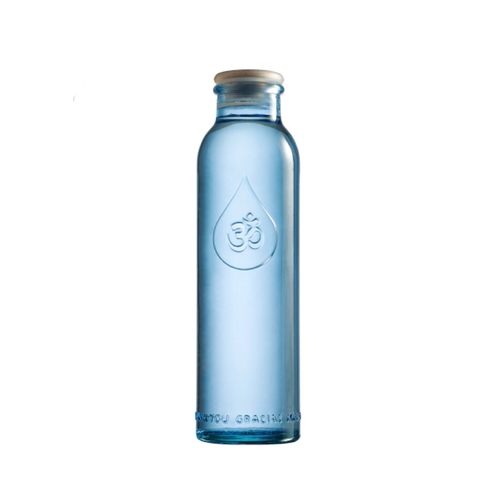 OmWater bottles have been created with the purpose of raising our collective consciousness and enlivening our gratitude, by placing the intention of gratitude in the act of drinking, so we can begin to connect with our environment.
The OmWater team works with the concepts of harmony, balance, ecology, beauty, gratitude, joy, and abundance, with the intention of attracting these qualities into our lives. A deep reflection about every formal and symbolic aspect of the products is performed and they consider the systemic implications of every decision they make. They are aware that we all have incredibly creative potential and that the realization of this potential is fully dependent on being authentic and consistent. For all those reasons, I chose to embark on the journey of distributing these beautiful bottles in Canada, adding love to our water, one drop at the time. – Caroline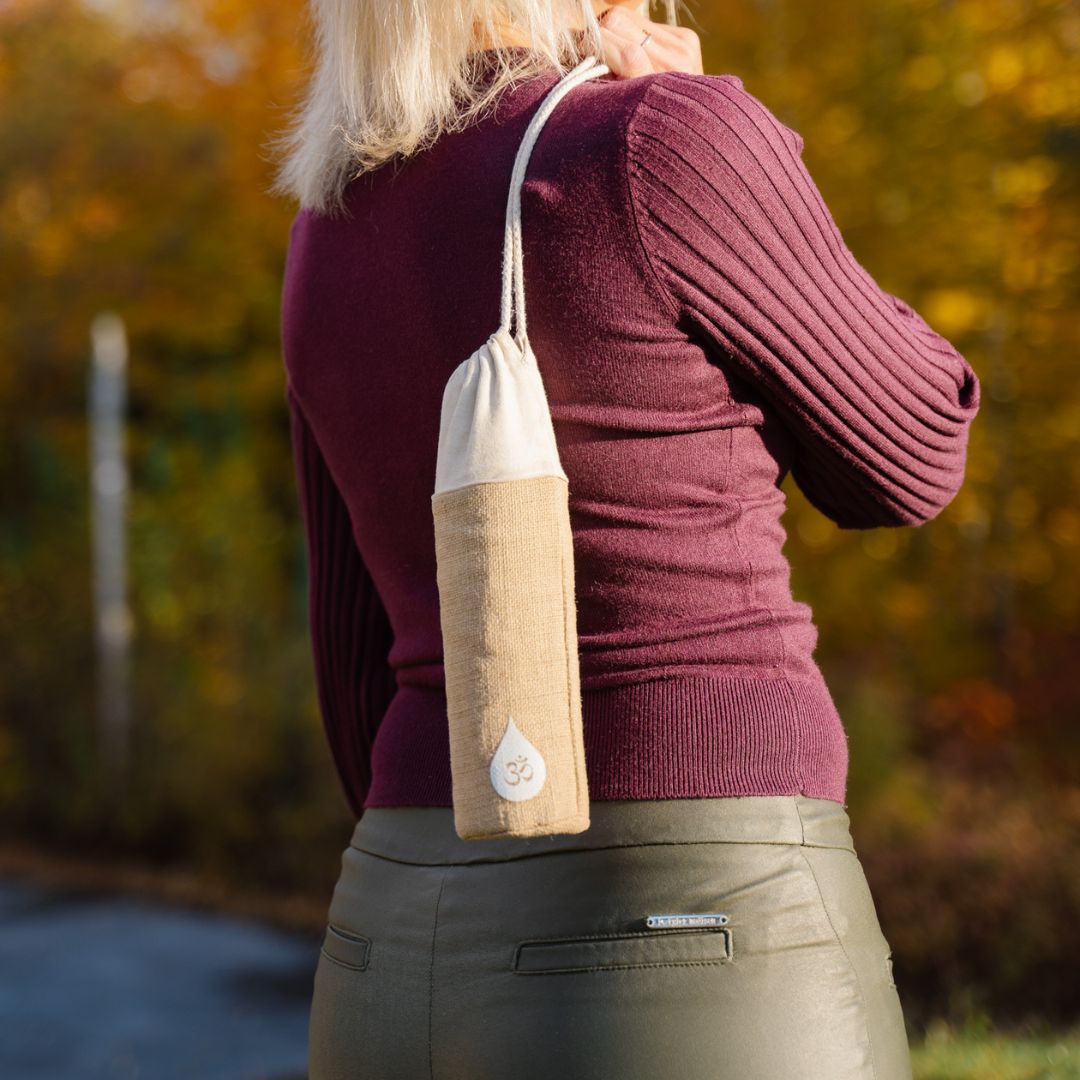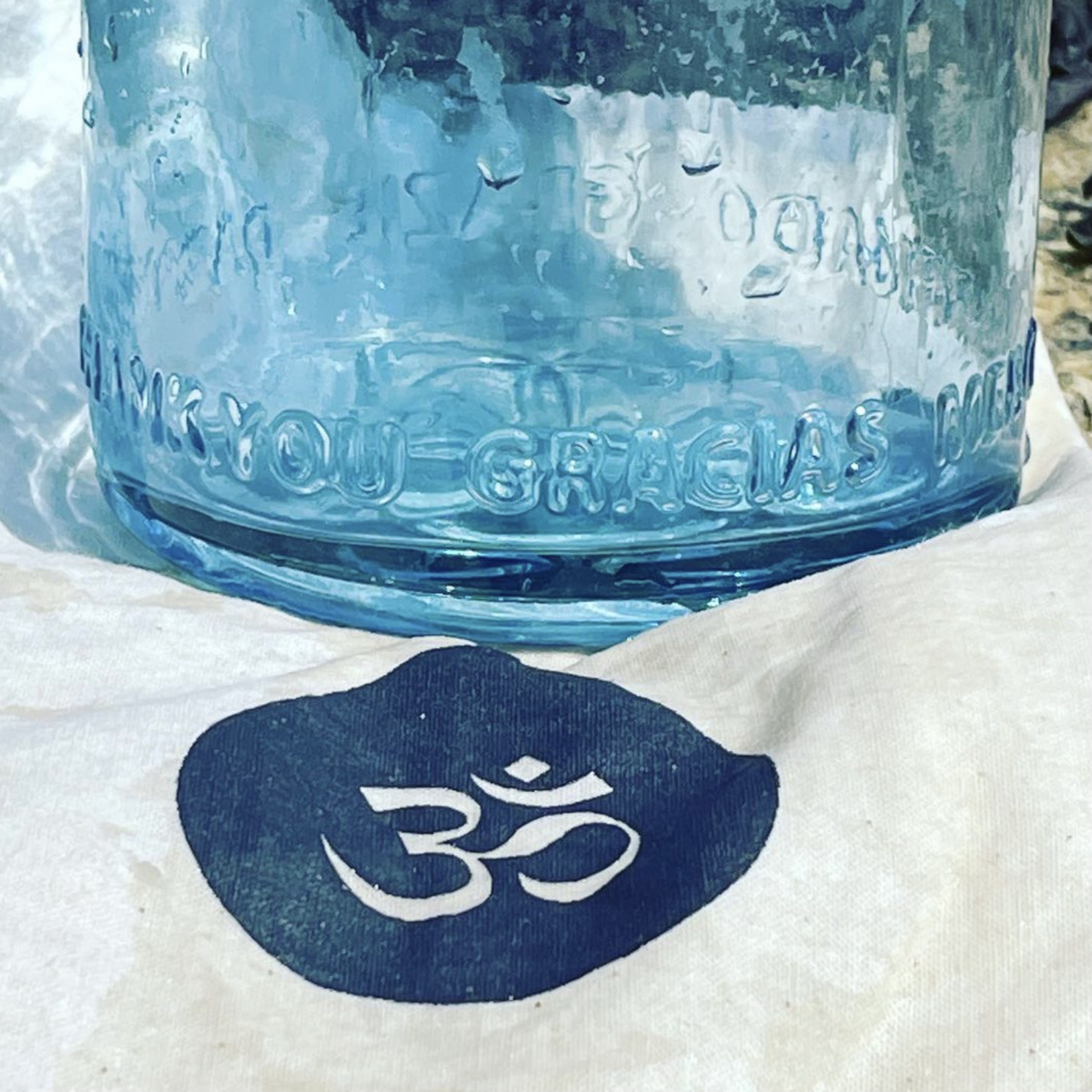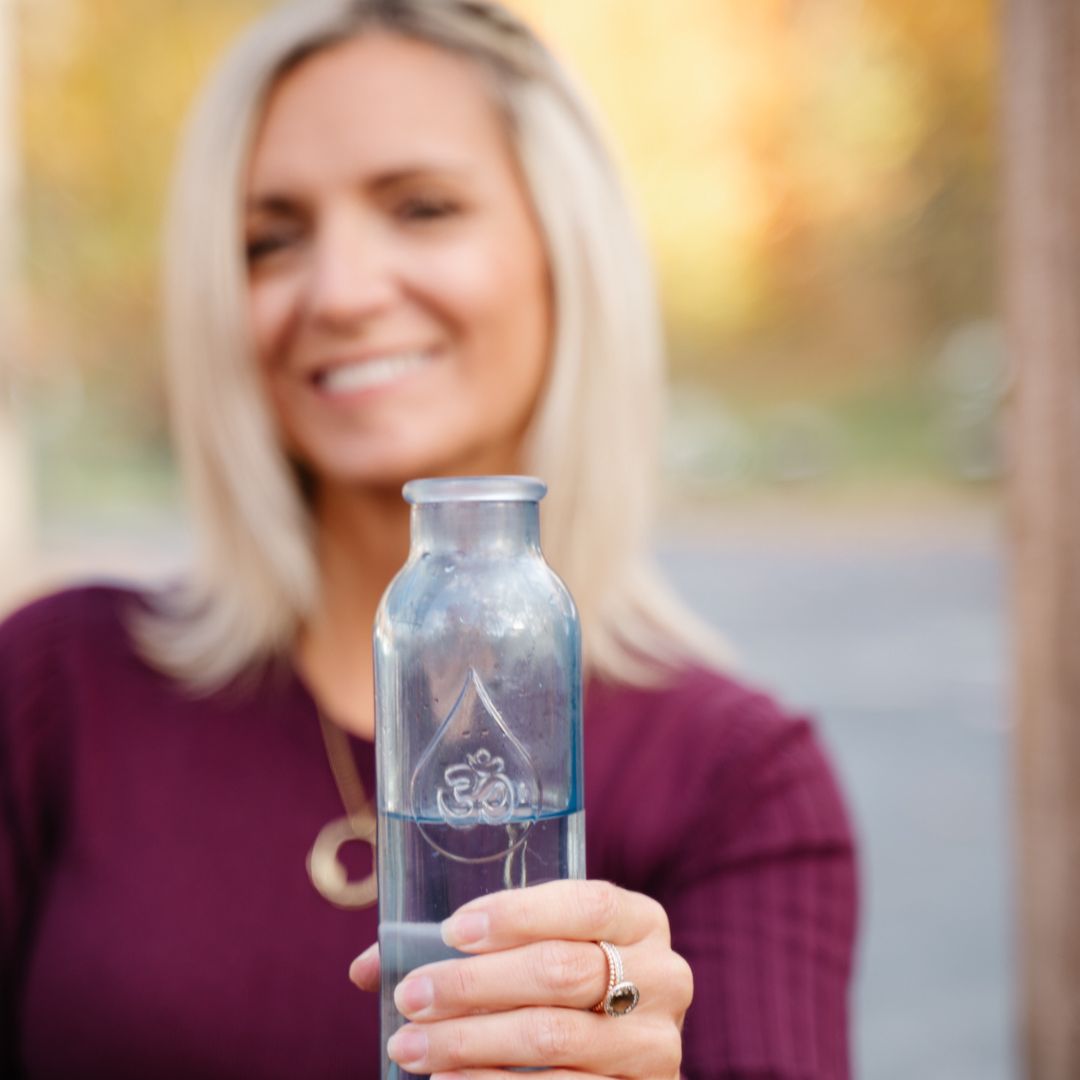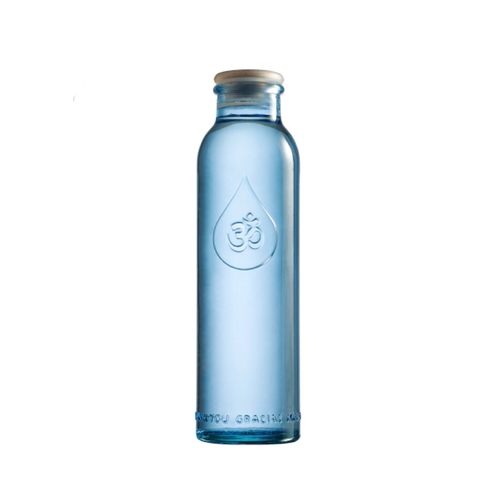 Clean Recycled Glass
All our products are contributing to avoid massive use of plastic packaging through their indefinite reuse. They are manufactured in Spain with 100% recycled glass, completely free of heavy metals. Our bottles and covers are fully recyclable.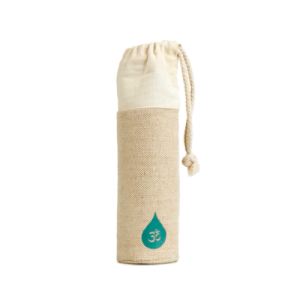 Ecological packaging. Natural materials
We believe in authenticity, functionality and durability. In our designs, we use noble and natural materials, such as cotton and hemp fabrics for the covers. We use recycled and recyclable cardboard and paper tape in our packaging.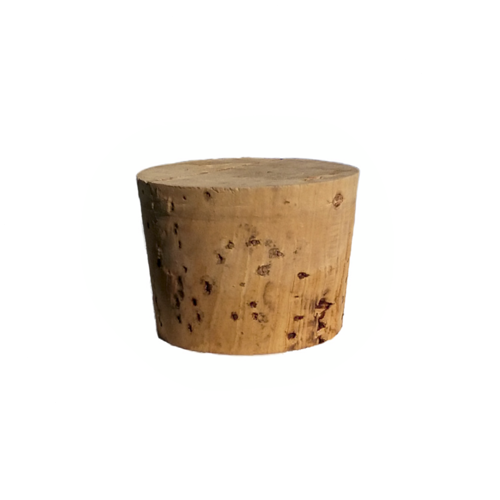 Treated natural ecological cork.
Water also needs to breathe so we provide a cork that protects while respecting it. The cork (bark from the Quercus tree) has received an aseptic treatment ensuring its complete cleanliness and disinfection, without adding odours or flavours to the water.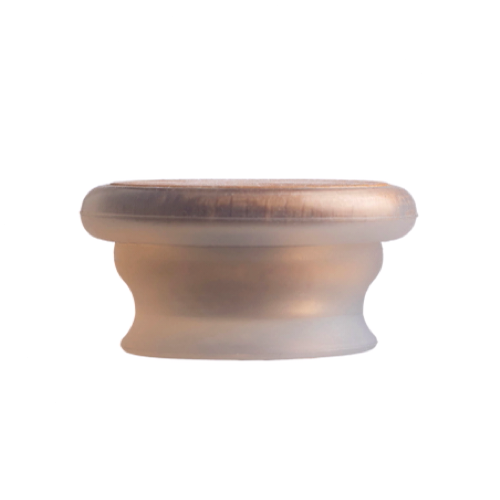 Airtight cap
The new OmWater "Pleyad" cap guarantees the tightness of the bottles for portable use and is composed of Km0 beech Wood core, covered with a unique piece of platinum silicone, the highest quality silicone available, safe, odorless and of a great durability, the same material used, among other things, for baby bottles and pacifiers.
Ergonomics
The dimensions of the bottle make it especially comfortable for handing, thanks to its diameter and balance.
Usage
It is designed to fit perfectly in the fridge and its wide opening makes it easy to fill.
Capacity
Its 1.23 litre capacity is optimal for one water-drinking cycle while offering an adequate weight.
Geometry
The use of the golden ratio ensures the harmonies of the bottle with with the rest of the living forms and the movement of the Universe itself. In addition to giving qualities to the water, the golden ratio also gives it a great beauty as we internally recognize this natural mathematical pattern.
The Seed of Life vibrates in the energy of the new, of Creation.
Om
The Sacred Syllable. I am Bliss, Existence and Consciousness. The Sound of Creation.
Golden Ratio
Designed entirely through the golden ratio (universal pattern with which Nature is developing itself).
The Seed of Life
Revitalising Water with the geometry of life from the bottom of the bottle.
Suitable for Solarising
The Sun, through the colour blue, gives information, energy and life to Water, contributing to the peace and spiritual evolution of people.
Gratitude
The transformative power of Gratitude. Through gratitude, we open up to the spiritual dimension of life and abundance,
100% Recycled Glass
We believe that love and respect for the planet are fundamental as We Are All One.
Do you like our Gratitude Om Water bottle and talk about its benefits to others?
Your love for our bottle could pay off. By becoming an ambassador of good vibrations, you will be paid. When you join our affiliate program, you will receive a unique link to insert in your social networks or on your website. Every time one of your customers uses your affiliate link to purchase a bottle here at www.omwatercanada.com, you earn just over $5. Click on the following link to contact us.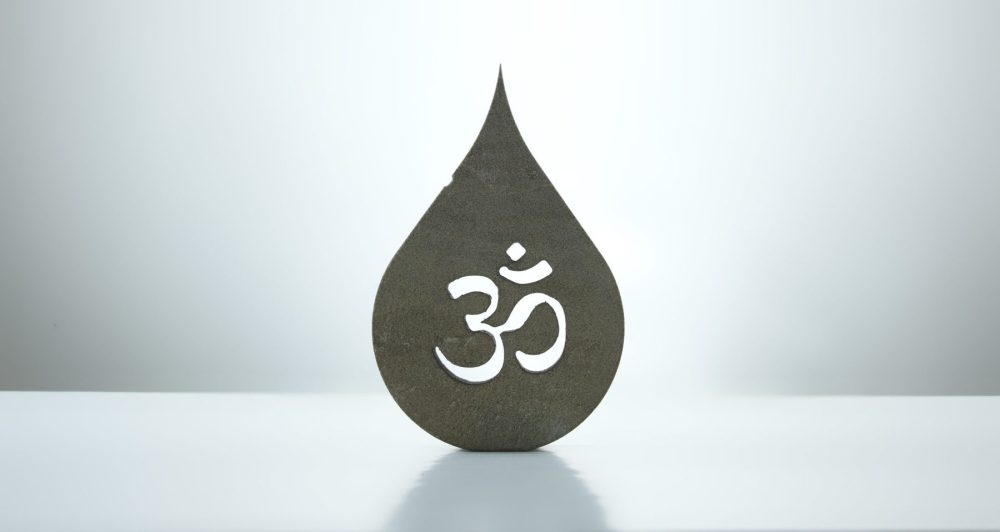 OmWater Canada
/ Retailers
We strongly advise that you reach out to our retailers to check products availability BEFORE choosing to head there.
La Moisson Supermarché Santé
Sainte-Thérèse, Québec
O Cœur de l'Être
Saint-Hubert, Québec
Le Repère de l'Ange
Québec, Québec
Boutique et Soins de l'Être
Chibougameau, Québec
Pure Art
Vaudreuil-Dorion, Québec
Tou & Cie
La Malbaie, Québec
Suzanne Cote
Carleton-Sur-Mer, Québec
Holistic dental hygiene clinic
(Caroline Andrée Larocque)
Baie du Petit-Pokemouche, New Brunswick
(506) 888-4446
Librairie Quintessence
Saint-Sauveur, Québec
M La Nature en pot
Montréal, Québec
HALSA Spa
Vancouver, British Columbia
Le Studio KOR
Bromont, Québec
Le Panier Santé
Drummondville, Québec
L'art d'être Humain (Claudia Boily)
Saint-Gédéon, Québec
(418) 321-7474
Esthétique Quintessence
Sherbrooke, Québec
http://www.esthetiquequintessence.ca/